51st Annual Delaware Antiques Show Catalogue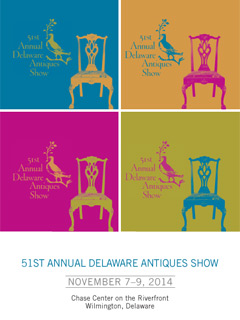 View the 2014 Delaware Antiques Show catalogue here!
Please note: the file is large and may take some time to load.
Advertising
Advertise in the official 2014 Delaware Antiques Show catalogue! Distributed at the exclusive Opening Night Party and to all attendees of the show, this 150-page keepsake is now enhanced with expanded editorial and show-related content. The official show catalogue is a highly visible means by which to reach a sophisticated and influential audience with your message.
Increased exposure for all 2014 catalogue advertisers includes an electronic flip-book version of the show catalogue, displayed on the show's official website (winterthur.org/das) throughout the year, reaching thousands of additional prospects with ample buying power.
For questions and inquiries related to advertising in this year's show catalogue, please contact:
Margaretta Hershey
302.388.9768 / mlrhershey@me.com
Questions?
For more information on the show, e-mail das@winterthur.org.